Accommodation can make or break your trip or vacation. A wrong choice can result in an unproductive business trip and ruin your vacation. Whatever the choice, get the best value for your money.
Choosing your temporary Home Away From Home is the single most important component of a vacation which requires a lot of attention and scrutiny but also very little of both if it falls below expectations or requirements.  Whether you are travelling solo, as a couple, family or group, the place that you will be calling home for the duration of your travel(s) has the potential to make or break the entire trip if it turns out to be a mismatch.
While the internet has made the process of searching, finding and booking a hotel much easier and accessible at ones' fingertips, it demands caution due to the many risks associated with online booking, particularly not knowing what you are getting yourself into.
Finding A Hotel
Despite the now-simplified process of finding a hotel online, it's best to err on the side of caution before booking.  Do not let flashy images on hotel websites convince you otherwise without taking steps to verify and authenticate what is being depicted online.  Direct communication either by phone or email is highly recommended.  That way, you can ask questions and get verbal or written confirmation as guarantee.  Doing so could be the most helpful  thing than putting blind trust in a hotel website.
Determine What Is Important
Before choosing a hotel, determine what is important to you in terms of selecting a place you will be calling home for the duration of your trip. Is it the price, location, star rating or complimentary breakfast?  Do guest reviews, fitness facilities, room size or a bar matter?  Whatever the preference, researching the property prior to booking is necessary unless one is already a seasoned traveller familiar with the process and nature of the task.
Listed below are some of the most common things people consider when choosing a hotel:
Price
Location
Service & Amenities
Reviews
Star Rating
Parking
Additional Costs
Meal Options
Cancellation Policy
Family-Friendly
Pet-Friendly
Chain or Local
Price
Price is one of the most important determining factor for hotel choice. Even the most prominent booking websites range hotels choice according to price.
Nonetheless, do not let price constrain your search to a single site to find your hotel.  Compare and contrast prices on other websites and see if you can get a better deal for the same value. Always shop around on multiple reputable hotel sites and by visiting different reliable online booking websites.  If you know where to search, there is a chance that you could get an even better deal for the same price, a deal that may offer improved service and amenities plus other incentives.
Location
Location is key and there isn't enough emphasis to stress how fundamental it is in selecting a hotel. It becomes even more so when you consider the nature and purpose of the trip. Determinants such as accessibility, weather and proximity to attractions, shops, restaurants and other vital services are pivotal in selecting hotel location. Location is also determined by price. Inner city hotels are likely to cost more than those on the outskirts and remote areas because of easy accessibility and convenient of location.
Amenities
When choosing a hotel, pay attention to the property's amenities as they add to the comfort and luxury of your stay or lack thereof.  The internet has changed how travellers see and review hotels, a result of which has been an increase in awareness and preference of certain  types of amenities by travellers, the most common listed below.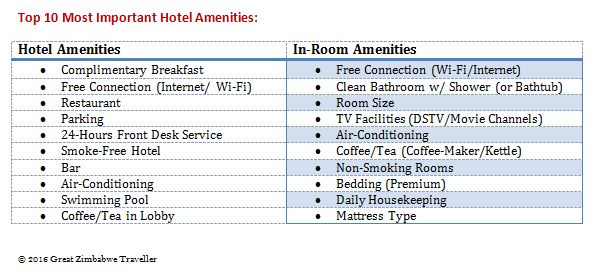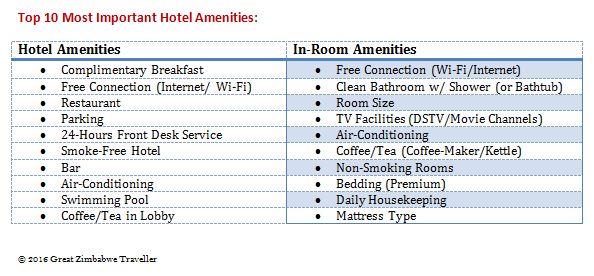 Reviews
Hotel reviews are comments from real people and previous guests of the hotel. They give you a feel of what to expect. An advance reading of reviews prior to selecting a hotel could help in making an informed decision.  While not dismissing them, take every review with a grain of salt pending verification from other reliable sources. If possible, see if you can find positive reviews or recommendations elsewhere other than solely relying on the property's own website or its affiliates.  Remember to always keep an open mind; not everything can be perfect.
Star Rating
Star ratings are losing relevance and are becoming a relic of the past.  The changing nature of the industry as well as needs and expectations of modern day travellers is forcing many hotels to abandon the rating system in favour of reviews.  Thanks to social media and the internet, they have successfully changed the definition of luxury and how traditional classification is now viewed. However, there is a segment of the market that still appreciates star ratings and their symbolism despite the diminishing relevance. Don't discount them yet. Instead, confirm and verify ratings, don't just trust.
Unleash the wanderlust in you!  Explore, experience and discover Great Zim Traveller's Travel Tips.