Zimbabwe is no stranger to media headlines, except this time, it's for something positive and historic.  Two Zimbabwean female pilots recently made history by being the country's First all-female deck crew to successfully commandeer a Boeing 737 commercial flight without incident.
Once again, Zimbabwe has been the topic of discussion on social media.  For a country that has become accustomed to negative media portrayal and misrepresentation, having the media laud and applaud a historic national accomplishment will require some getting used to.
In a remarkable and ground breaking feat, Air Zimbabwe Flight Captains Chipo M. Matimba and Elizabeth Simbi Petros made aviation history as Zimbabwe's First ever all-female flight deck crew. They successfully helmed a Boeing 737 from Harare to Victoria Falls on November 13. In an all-female cockpit crew, the experienced duo conquered the skies when they piloted a commercial flight in a male-dominated industry, particularly a profession traditionally associated with males. The exhilarating experience would later be dubbed #PaintingTheSkyPink.
Social Media
In jovial commemoration, Air Zimbabwe and the Captains took to social media to share the news with colleagues, friends and the world at large, with Cpt. Matimba exuberantly remarking,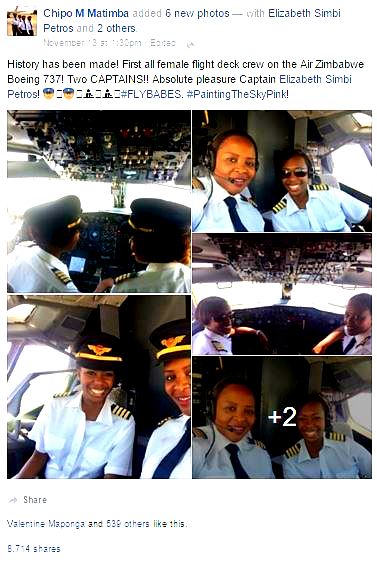 "History was made!  First all female flight deck crew on the Air Zimbabwe Boeing 737! Two CAPTAINS!! Absolute pleasure Captain Elizabeth Simbi Petros!"  Source: Facebook, November 13, 2015
In similar fashion, Cpt. Petros responded in kind and shared the exhilarating experience in her own post,
"Air Zim First all-women 737 Flight Deck Crew! Flight to Vic Falls This Morning.  Was a pleasure Skipper Chipo Matimba!"

Source: Facebook, November 13, 2015
Others congratulated the duo while acknowledging the inspiration to aspiring female pilots. Valerie Jeche, a Zimbabwean aviation student in Australia  was one of many.
The hashtag #PaintingTheSkyPink is a significant and symbolic statement that glorifies progressive achievement towards employment equity and empowerment.  While shocking to some, Zimbabwe has always maintained progressive policies that advocate for equal opportunity for all in education and profession, regardless of gender.
The  success story of these Flight Captains is a popular narrative among many Zimbabwean women who, for decades, have broken the mold in traditionally male-dominated professions.  As early as the '80s, many ventured into "male" professions as apprentices, mechanics and engineers. By the '90s, many were successful in their professions including Captain Emily (Emilia) Njovana, aviation pioneer and Zimbabwe's first female and Black commercial pilot.  She inspired others including Cpt. Chipo Matimba whose career began with the Air Force of Zimbabwe during the Njovana era in 1994, and when she flew her first aircraft, the SIAI-Marchetti SF-260.
Conquering the skies
While Captains Matimba and Petros are celebrated for their remarkable feat,  they are not the first female pilots to make this particular aviation history.  Instead, they join a growing fraternity of women in an industry that still exhibits significant levels of gender disparity in terms of professional progression.  Like many before them, they conquered the skies and demystified the myth and narrative that women can't do certain jobs like their male counterparts.
Making History
Although the first female pilot to fly a commercial airline was five decades ago, female commercial pilots remain a minority and account for a paltry 3% globally, according to International Society of Women in Airline Pilots (ISWAP).  In 1984, the first ever all-female flight deck crew flew a commercial flight  from Denver to Lexington, Kentucky while in 2009, an all-Black, all-female African-American flight crew took off from Atlanta to Nashville. In May this year, United Airlines' first ever all female crew piloted a new Boeing 737-900 for delivery to its fleet in Chicago.
Africa Changing
Africa is making significant strides in terms of employment equity and empowerment in aviation and other industries.  While Zimbabwe has five female pilots, three First Officers and two Captains (Matimba and Petros), it was Captain Emily (Emilia) Njovana who broke the professional mold in the '80s to become the nation's first female and Black commercial pilot. She is the inspiration who now trains all pilots to fly aeroplanes, helicopters and jets.
After Air Zimbabwe's female pilots successfully flew the Boeing 737, Ethiopia Airways followed suit a few days ago with its own all-female crew to fly from Addis Ababa to Bangkok. Last year, Kenya also made its own domestic aviation history when a female pilot flew a new B787.  Not to be outdone and to keep abreast with changes in the aviation industry sweeping across Africa, Rwanda finally got its first female pilot this year, an indication that Africa isn't rigid afterall!
While advocates of employment equity share in celebrating Zimbabwe, Africa together with Air Zimbabwe are moving in the right direction by embracing changes within the aviation industry.
Ready to explore? Unleash the wanderlust in you!  Explore.  Experience.  Discover Zimbabwe!