Blogging during Christmas season can be stressful and challenging.  Despite successfully blogging your way throughout the year, this season is a challenge for bloggers who struggle with content, structure and length as posts require relevant information specific to the season.
It's a few days to Christmas and everyone is busy with last minute preparations. Despite the hecticness, people still manage to find time to catch up on their favourite blog or to go online to search for tips, advice and other helpful stuff pertaining to Christmas.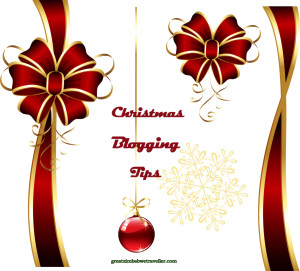 This is a time you don't want to let your readers and followers down through silence.  When it comes to blogging, consistency is key. However, maintaining it during this season is difficult.  While you may have successfully blogged your way throughout the year, doing so at this time is a challenge for many bloggers as they struggle with content and structure. This article offers few ideas on what to blog about during Christmas season. Remember, you know your audience, what appeals to them and how to present it.
Short, Precise, To The Point!
Whatever the topic, make your articles short, precise and specific to the period.  While Christmas season is the busiest time of the year, people still find time to go on line to search for shopping tips, scrumptious recipes including gift and party ideas. Whatever your topic, remember that people do not have the luxury of time to read long and winded articles.
Tips and Suggestions
Shopping:  Not everyone is a shopping expert on what to buy or where to get the best deals for Christmas.  Offer suggestions and tips on shopping including what to buy, where to go for certain items including where to get good deals at reasonable pricing.
Gifts: Suggest gift ideas for various categories and age groups.  Do an overview of what is hot in the market, latest  gadgets and gizmos.  Don't forget tips on gift wrapping.
Decorations: Share ideas on Christmas decorations for both inside and outside the house using traditional ornaments, Christmas Cards and other handcrafted decoratives.
Share Recipes
Nothing says Christmas like good food.  This is a perfect time to share your favourite recipe (baking or cooking), whether it's old and traditional or something new and trendy.  This is the time people seek recipes as the desire to be creative and impress at the dinner table is high.  Whatever recipe is shared, always include a visual or picture to make it more appealing.
Christmas Songs
Another great idea is to share your favourite Christmas songs with your audience.  You can do so either in video or mp3 format.  Your readers may also be interested to know why certain songs in the collection are special to you.  While some media outlets start playing Christmas songs in November, share with your readers when you start playing your music.  Also, share whether you play your favourite music in your car or at home and how often you play it. Do you purchase a new CD or video each year or do you make it yourself? All these are great ideas for your blog.
Merry Christmas Message
Lastly but not least, your readers and supporters are the reason why your blog site still exist.  Wishing them a Merry Christmas and Happy Holidays is the least you can do as a sign of gratitude and appreciation for their loyal support. Make the message meaningful and with appealing visuals.  Don't forget to inform them if and when you will be offline as well as back online. Whatever suggestion, tip or message you post in your blog, remember to keep it light, fun and interesting.
Publisher's Note:  Edited on December 21, 2016.  First published on December 21, 2015.