Now that the world has mourned Cecil, it's time to focus on other issues. Doing so isn't negating or abandoning Justice For Cecil campaigns.  Zimbabwe should not suffer or be punished as a collective for the actions of three irresponsible individuals.
Now that the world has mourned Cecil, it is time to focus on other issues.  Doing so does not mean that Great Zimbabwe Traveller is negating on its responsibility in calling for justice, or abandoning the Justice For Cecil campaign initiatives.  Zimbabwe is bigger than Cecil, and it would be unfair to punish the entire country and its struggling economy for the actions of three irresponsible individuals who, knowingly, subverted local laws and deserve to be prosecuted.
As we move on to focus on other issues, we will maintain updates on new developments on the impending Cecil case including progress on the Justice For Cecil campaigns.
Justice For Cecil Campaigns
While the focus has shifted from anger to calls for justice, Cecil's story is still relevant and remains part of the narrative within mainstream media, blogs and social media.  Calls demanding justice for Cecil have not abated but are gaining in momentum across all media platforms particularly after this current development.
A Petition To Extradite Palmer to Zimbabwe has, as of August 18, garnered over 235,000 signatures, beyond the required threshold for the US Justice Department to respond.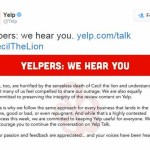 Another petition by Change.org seeks to retain the right to flood Dr. Palmer's Yelp page with negative reviews, many of which have focused on the outrage over the killing of Cecil.  The petition, started after Yelp removed many of the negative reviews reads as follows, "Yelp's autocratic censorship of this historic, unprecedented outpouring of participation in public debate silenced and disempowered their loyal contributors".
On a different approach, over a million people from different countries have signed a Care2Petition targeting the Zimbabwean government to ban trophy hunting, while the other targeting the US Congress to enact and support the Cecil Act has received over 54,000 signatures.
New Development
There are new developments regarding the reclusive doctor who has been in hiding since he was outed as the "poacher" and killer of our shumba, Cecil.  Although he has remained out of sight, Palmer was recently spotted in Minnesota for the first time in 6 weeks taking a walk through his neighbourhood on Sunday.  Both the Zimbabwean and American governments are considering legal action against him after it emerged that he was responsible for "illegally killing" Cecil in an illicit hunt in Hwange, Zimbabwe.
Palmer Reaches out; Clinic Re-opens
Walter Palmer who sparked global outrage after killing Zimbabwe's Cecil The Lion on July 1, finally reached out to US  Fish and Wildlife authorities after numerous failed attempts to contact him, including via Twitter.
Palmer, who has already admitted to killing 13 year old Cecil during an illicit hunt, "voluntarily" reached out to US Fish and Wildlife Service Office of Law Enforcement on Thursday through his representative.  On Monday August 17, his dental practice re-opened but without the doctor. While Palmer has not been charged with a crime yet, he has maintained that he "trusted his local guides to obtain necessary wildlife hunting permits".
Secret Retreat, Schoolhouse of Horrors
As more information about Palmer comes to light, a disturbing image of the man begins to emerge. Recently discovered is the doctor's secret country hideout, a grim retreat filled with wooden hides where he shoots deer with bow and arrow in his backyard.
Within the same property is an old schoolhouse converted into a shrine of dead animals, some form of macabre "museum".  The old school is where Palmer houses all the heads of dead animals he has killed across the globe, some illegally, including a polar bear and a rhino.  It is where he would have taken his trophy, Cecil's head, had the Zimbabwean authorities not stopped it from leaving the country.
Documentary
Meanwhile, a new documentary, The Hunter & Hunted by ABC's 20/20 which premiered and aired on August 14, documents the killing of Cecil and what transpired hours prior.
The documentary depicts trophy hunter Walter Palmer as a convicted poacher with a history of subverting laws, using cover-ups and bribery.  However, due to legal restrictions and liability issues, we cannot post the documentary video on this site.  Viewing is currently restricted and limited to US territories only.
The only disservice to Zimbabwe by the investigative documentary was a strong reliance on a single person's perspective regarding wildlife.  Views of one individual should not be taken as a holistic representation of the entire nation.
Zimbabwe and its Animals
The prevailing view that Zimbabweans in general do not care about their wildlife is misguided, a  misrepresentation that is wrong and should be rejected in its entirety.
This particular representation and narrative is not fair to Zimbabwe and Zimbabweans as a whole.  Despite many challenges and lack of resources, a lot of good has been done through collective effort by both Zimparks together with other private conservation groups towards preservation, protection and conservation of local wildlife.
Contrary to the presented view in the documentary, Zimbabweans in general also love their animals.  From an early age, children are taught the value of animals and how to treat them, something evident through organized school trips to Game Reserves, National Parks and wildlife sanctuaries.
The Cecil Legacy
Cecil is more than just a lion, label or former attraction.  He is an integral part of the country and he embodied the true spirit and everything that is Zimbabwe: confident, strong, proud and an attention grabber. Like the other Cecil, he too, put the country in international spotlight and will remain a permanent fixture on Zimbabwe's present, past and future, although for a remarkably different reason.
Cecil The Name
Cecil, the name, will always be associated with Zimbabwe and is part of the national narrative. For those not familiar with the country's history or historical relevance of the name, there are few places one can visit in order to learn and understand, not just the symbolism, but the significance and relevance of Cecil The Name to Zimbabwe the country.
Hwange National Park
Hwange National Park, home and birthplace of Cecil The Lion, the place where his seven cubs, Jericho and his lionesses live and still call home, would be a perfect starting point for this historical excursion.  It is the place where the legend of Cecil The Lion begins and where his legacy will forever remain.
Hwange National Park is the largest national park in Zimbabwe and is heralded as the 'Jewel of Africa' due to its terrific safari experiences, with Cecil having been the Star Attraction.  This park boasts of tremendous selection of wildlife and is home to Africa's Big Five with over 100 species of mammals and nearly 400 bird species.  It is the place where the country's endangered species are protected.
Natural History Museum, Bulawayo
From Hwange, one can proceed to Bulawayo, the second largest city in Zimbabwe with a typical layout of an American mid-western town. The  Natural History Museum of Zimbabwe located at the Bulawayo Centenary Park is the best source of information and it houses a vast historical archive of Cecil's pioneering years.  A worthy and insightful tour if undertaken with the guidance of a professional guide who is also a historian.  There, you will uncover a detailed history of Cecil Rhodes, his relevance and embodiment to Zimbabwe's psyche.  His iconic statue that once graced Main Street is also housed within the vicinity.  This type of excursion is best suited for history buffs or historians including students of history and post-colonial Africa.
Bulawayo Railway Museum (Raylton)
A few minutes walk or drive from the Natural History Museum is the Railway Museum housing Cecil Rhodes' personal coach.  It is a perfect place to see, walk and experience first hand the other Cecil's lifestyle aboard his personal private coach.  The original coach is immaculately kept and in perfect condition, together with its original classic antic porcelain still in place.  A perfect trip for history buffs, train and locomotive enthusiasts, and students of history if conducted with the assistance of someone familiar with locomotive history.
Matobo Hills, Bulawayo
The next leg of your excursion should take you to Matobo Hills (formerly known as Matopos), a small beautiful nature reserve on the outskirts of Bulawayo. It is located within the UNESCO protected Matobo National Park.  The Matobo Hills are a place of cultural, spiritual and historical significance to the community and entire region.  Ironically, it is also the same place where Cecil Rhodes chose to be buried.
There, one can have a deeper insight into the country's history and maybe, learn to appreciate the historical relevance and significance of the name Cecil to Zimbabwe.  The scenic View of the World where Rhodes is buried is a tourist magnate that draw thousands annually.
For a night in Matobo Hills, one can select from a variety of accommodation such as:
Camp Amalinda, an exclusive private safari lodge located within the UNESCO World Heritage site of Matobo Hills.
Matobo Hills Lodge situated within a private wildlife reserve bordering Matobo National Park.
Big Cave Camp an intimate retreat famously known as the Safari Lodge On The Rocks, as well as Granite Ridge and Shashani Lodge.
Nyanga, Eastern Highlands
The last leg of your historical excursion to unraveling and understanding the relevance of the name "Cecil" to Zimbabwe will take you to Nyanga in the Eastern Highlands, a beautiful mountainous region, land of many waterfalls, rivers and lakes.  Secluded in the deep countryside is the beautiful 1800s Rhodes Nyanga Hotel, Cecil Rhodes' country estate and place of retreat.  This beautiful resort located within the Nyanga National Park was converted to a hotel in 1933.
A perfect place for nature lovers, history buffs, hikers, those who are into antiques and most importantly, those who love fishing and horse-back riding.
More Than Cecil The Lion
While both our Cecils have each contributed to making Zimbabwe known to the world regardless of the circumstances, we should acknowledge them as permanent fixtures of the Zimbabwean narrative.  Zimbabwe is a very beautiful country with a lot to offer.  It might be a small country but it prides itself of diversity, rich history, great culture and amazing people.  Zimbabwe is more than wildlife and courting controversy.  Like Cecil, the country has attracted a lot of media attention, some unwarranted. However, by visiting and exploring this beautiful country, you will discover a lot of good that will contradict every stereotype, perception and narrative you have heard about the country.
Unleash your wanderlust!  Explore, experience and discover beautiful Zimbabwe!